Against the background of the artist's beloved Russian landscapes and ancient Russian architecture the scenes of a simple life of Russian accomplishers unfold. Their ingenuous work, their spiritual purity are shown so excitingly, so sincerely that even now, years after they were created, these paintings still touch viewers' souls. Back then they were a revelation. Being home-sick, Roerich glorified moral force of the people, the harmony of existence that can be achieved through bonding with nature in peaceful work and humanity.
After New-York the citizens of other 28 cities in the USA including Chicago, Buffalo, Philadelphia, and San-Francisco, saw Roerich's paintings. The exhibition had a stunning success.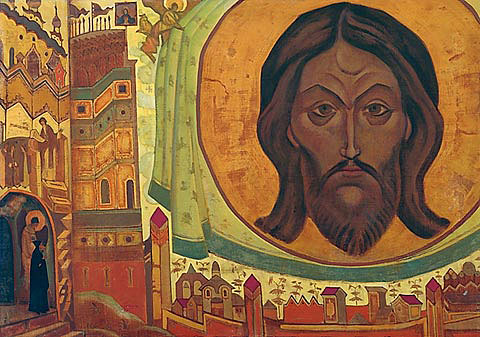 N.K. Roerich. «And We See». From «Sancta» series. 1922.
Visiting the cities where the exhibition took place, Nicholas Roerich read lectures on art, on ethical and aesthetic education. These lectures were especially popular in student circles. The painter introduced his listeners to the achievements of the Russian culture, called to mutual understanding and cultural cooperation. Thus, there, in the new circumstances, in that vast unfamiliar country, Roerich continued his educational and cultural and organizational activity. And it was America, and mainly the USA, the energy and boldness of ideas of their citizens and cultural community, that created a beneficial environment for realization of Roerich's long-standing ideas.