Nicholas Roerich
Estate Museum


in Izvara

O.A. Cherkasova «N.K. Roerich and America»
---
In one of his first speeches in the USA, he voiced his credo on importance of cultural activity in its educational, protective and creative forms:
"The best people have already realised that they should not reiterate about the ways of beauty and wisdom, but actually implement them in their social life. They are aware that it takes more than a suit of European cut to be a cultural person. They know that in our time of mortal struggle between mechanical civilization and forthcoming spiritual culture, the ways of beauty and knowledge are especially difficult, attacks of dark vulgarity are especially onerous… A lot of people at the end of the week remember how much money they should pay against their bills. But very few people remember what contribution they made to the sphere of beauty and knowledge during these seven days."
It was this educational and cultural activity of the master, his constant benevolent dialogue with representatives of intelligentsia, artists and young people that made it possible to establish cultural institutions and open the Roerich Museum in America.
That is how this process was described by Sinaida Grigoryevna Fosdick:
"The artist's personality attracted Americans from various strata of society – painters and writers, famous public figures and young people. Newspapers wrote about Roerich's "method of work", about a harmony of his colours and hues and artists came to study them. There were plenty of meetings between Roerich and artists and even though he was extremely busy at that time, Nikolay Konstantinovich always found time for such conversations, answering their countless questions and uncovering for the inquisitive the whole range of his art. It lasted during the exhibition in New York and then restarted in other cities to which the paintings had been moved. The tour lasted for more than a year and Roerich had to travel to many cities, read lectures and delivered speeches to most diversified public invariably telling about the Russian art which he actively promoted in America. The Russian artist was introducing Russia to the Americans. It allowed him to establish several artistic and educational institutions, the way for which had been already paved."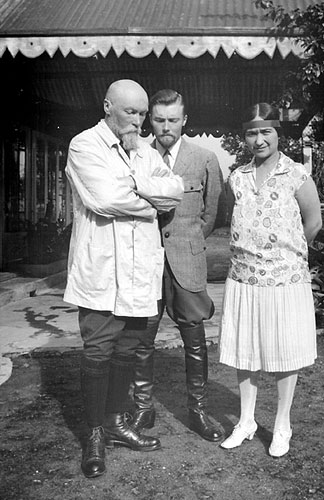 Nicholas Roerich, George Roerich, Sina Lichtmann.
August–October, 1928. Darjeeling, India.
Courtesy of N. Roerich Museum, New York.
Museum Address: 188414, Izvara Village, Volosovo District, Leningrad Region, Russia.
Phones: +7-813-73-73-273 (group tours); Phone/Fax +7-813-73-73-298 (general)
Museum Director: Cherkasova Olga Anatolievna
E-mail:
izvara@inbox.ru