This was a huge trial not only for Nicholas Roerich who was far away from the USA at that time, in the expedition to Manchuria, but also for his American supporters. Without going into the smallest details of this drama, let us point out the most important thing: Roerich's American employees headed by Sinaida Fosdick honourably stood the stern test. In spite of the events of the late 1930-s, interrupting the museum activity, military and economical crises, the museum was restored in 1949. At present it is not only the largest collection of Roerich's paintings in the world, but also a major cultural centre working under the motto, pronounced by Nicholas Roerich: "Pax per Cultura" (Peace through culture).
The Roerich Museum was reopened in a new building located at 319 West 107th Street. When the suitable building was found, it was bought by Baltazar Bolling, the Roerichs' follower and let to the museum. In a year he sold the house to the husband of one of the most devoted disciples of the Roerichs - Katherine S. Campbell. Upon the death of her husband the house passed into Catherine's full possession and she donated it as a gift to the museum. She also presented part of her private collection of Nicholas Roerich's paintings and funded launching of publishing activity: printing post-cards, reproductions and books.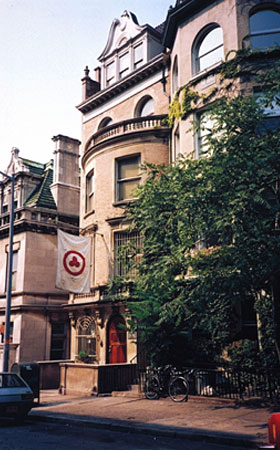 Modern building of N. Roerich Museum, New York.
Sinaida Grigorievna Fosdick was a continuous Director and guardian of the new museum since the day of its foundation in 1949 and till her death on 16 July 1983. Thanks to her incredible persistence, faithfulness and energy Roerich's work in America continued both in the new museum and in "Agni-Yoga" society, set up in 1946.
The paintings for the museum were gathered from private collections. Sinaida Grigorievna travelled to several countries to persuade people to donate the paintings. She managed to retrieve them from Argentina, Paris, Bruges. At present the museum houses over 200 works by Nicholas Roerich and more than 50 works by his son, Svetoslav. Thus, since 1949 two Roerich institutions are working in the house at 319 West 107 Street: the Roerich Museum and "Agni-Yoga" society. Members of these institutions, as well as visitors of the museum, come from various countries of the world.
The Museum is open to public. It publishes and distributes both books written by Nicholas Roerich himself and books about him; postcards, reproductions of his paintings, makes films about life and art of Nikolay Konstantinovich. On the regular basis the museum organises poetic soirées and concerts of mostly young musicians and singers. Annually a poetic competition is held, the winner of which receives a prize named after Nicholas Roerich. According to the Roerich's tradition, visits to the museum or to the concerts are free of charge.