Nicholas Roerich
Estate Museum


in Izvara

O.A. Cherkasova «N.K. Roerich and America»
---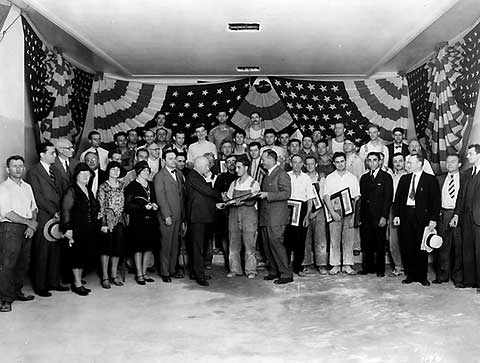 First row, left to right: Sofie Shafran, Sina Lichtmann, Frances Grant, Maurice Lichtmann,
Nicholas Roerich. June-October, 1929. Meeting with the builders of the Master Building,
New York. Courtesy of N. Roerich Museum, New York.
Lectures delivered in the museum included "Contemporary Russian composers", "Harvests and civilization", "Problems of a modern woman" (read by Eleanor Roosevelt). Over 50 Roerich's societies were in constant contact with the museum.
Wherever Nicholas Roerich went – to India, Asia, to the expeditions, he carried on guiding the work of the museum. His expeditions to the Central and Eastern Asia, purchase of an estate in the Kullu Valley in the Himalayas and establishing of Urusvati Himalayan Research Institute (as a part of the New-York centre) came out as a continuation of this activity.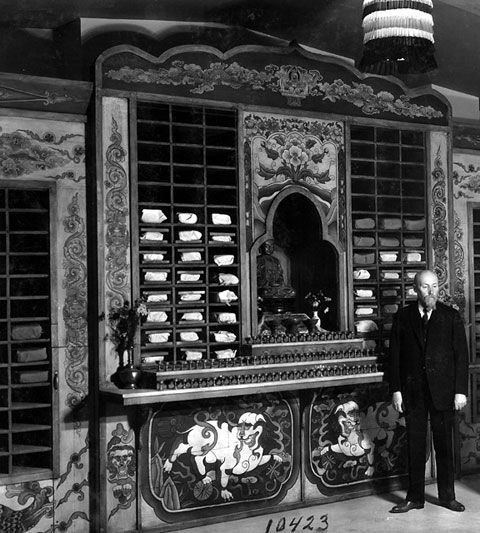 Nicholas Roerich. June–October, 1929. Hall of the East, Roerich Museum, New York
Standing in front of the complete collection of the Narthang Kanjur and Tanjur (Bka'-'gyur and Bstan-'gyur),
obtained by the Roerich Central Asiatic Expedition. Courtesy of N. Roerich Museum, New York.
Simultaneously with cultural and educational work of these organizations, another grand project was in progress: preparation for signing of the international treaty proposed by Nicholas Roerich for the protection of cultural heritage against vandalism during times of both war and peace. The climax of this initiative was signing of this document, known as the
Roerich Pact
, by the USA and all states of the South America - all in all 21 countries. The signing took place on 15 April 1935 during the special ceremony in the White House in the presence of the President F.D. Roosevelt who supported this idea. The only reason why the Pact did not become global was the Second World War that burst at that time.
Museum Address: 188414, Izvara Village, Volosovo District, Leningrad Region, Russia.
Phones: +7-813-73-73-273 (group tours); Phone/Fax +7-813-73-73-298 (general)
Museum Director: Cherkasova Olga Anatolievna
E-mail:
izvara@inbox.ru