As the museum was growing, an idea of a larger building or even a sky-scrapper appeared. The design of a 24 story building was approved and later it was upgraded to a 29 story building. First three floors were intended for the museum, Institute and "Corona Mundi", the rest were supposed to locate scientific and cultural organizations and societies. The design included lecture and concert halls and a small theatre for drama and opera performances. The Tibetan library was to store 333 volumes of Kangyur and Tengyur – Buddhist sacred texts for the use of scholars of Tibetan and Sanskrit languages and it truly justified its purposes. The remaining floors were meant for apartments for writers, artists and all those who wished to join American and world culture. The whole house was supposed to become a cultural centre. Lectures, exhibitions, concerts should have been free of charge for those living in the house. The solarium on the top floor was designed for meeting and communication of the house residents. The rent was to be small and affordable for all artistic people.
There were plans to convert in future several more floors into museums of American, Russian, Indian, Latin American art and so on. This exceptional design was successfully implemented by a famous architect Harvey Wiley Corbett. The responses in press after the whole concept was revealed were beyond any expectations. The construction of the building of the museum lasted for several years and was completed by 1929. Thus, thanks to the financial support of Roerich's followers in 1929 the previous mansion that housed the museum was replaced by "The Master Institute" sky-scrapper. On 17 October 1929 a grand opening of the new museum took place. It coincided with the 40th anniversary of Roerich's artistic career. The ceremony was visited by representatives of different countries of Europe, Asia and South America. Presidents of the USA and other countries sent their greetings.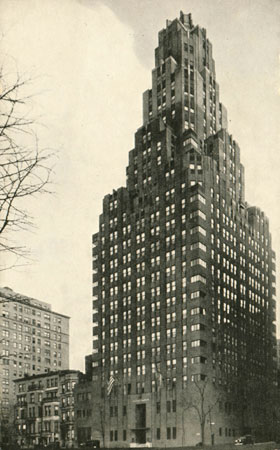 The Roerich museum in New York.
Courtesy of N. Roerich Museum, New York.
The museum burst into a bustling activity and it acquired a reputation on the international scale owing to innovating ideas and Nicholas Roerich's art. According to a special resolution approved by museum's directors, it was declared to be a gift to the American people of all times – a free-of-charge museum, open daily. The museum organised an impressive series of exhibitions, lectures and concerts. Let us remember just a few of them: "Canadian painters", "Art of Mexico", "Water colours and drawings by Polish painters", "Japanese painters" and many others, most of them were then on tour around the whole country. Among the concerts held in the museum were "Finnish composers", "Operas by Pergolesi", etc.