In the context of one of the most burning issues of modern times – the relationship between two great countries – the United States of
America
and Russia, their past, present and future – the American period of life and activity of Nicholas
Roerich
, the great Russian artist and cultural activist, becomes especially crucial.
In her diaries, Sina Fosdick, Roerich's American employee who headed Nicholas
Roerich
Museum
in New York till her death in 1983, wrote about Nikolay Konstantinovich: "He made an indelible mark in
American
culture, having introduced this country to the Russian art, not only by the exhibitions of his paintings and the
Museum
, but also through the means of numerous lectures, books and articles on Russian art and its best representatives".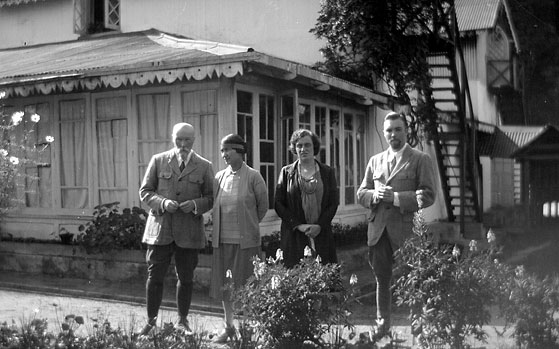 Nicholas Roerich, Sina Lichtmann, Frances Grant, George Roerich.
August–October, 1928. Darjeeling, India. Courtesy of N. Roerich Museum, New York.
The 1935 Washington Treaty (
Roerich Pact
), signed by the representatives of 21 countries of the Pan-
American
Union, including the USA, in presence of President Franklin Roosevelt on 15 April 1935, will remain a great symbol of the future in the history of mankind. The Pact centred around the main idea of responsibility the humanity bears to guard and preserve the culture, its institutions and monuments being the universal heritage, as a condition for development of human civilisation.
The importance of this event, darkened by the conflagrations of the Second World War, becomes more and more apparent today in the face of international conflicts and contradictions, that threaten the world.
And maybe the time has come when we should turn again towards the meaningful experience of the past, finding in it the sign of a possible future. It was not by mere chance that the 1935 Washington Treaty or the
Roerich
Pact united Russia and the USA in the historical act of good will of peace, cooperation, protection and development of culture, which is the highest value and the only possible condition of peace around the globe. Prophetic words of one of the most distinguished men of the United States of
America
– President Roosevelt testify to this.